Mexico?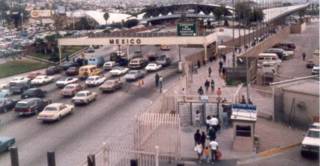 My last obstacle before getting everything straight with school is an immigration issue. I have to have a new I-20 and I have to leave the U.S and re-enter but since school is going to start on Tuesday I can't go back home, my only solution would be Mexico!
I have to cross the border and come back in, the only thing there are major risks in doing that coz I could be stuck at the border and the immigration officer have the total power to decide if I should re-enter or not. I am really scared that I would be stuck in Mexico but I am left with no other choice!!
I'm going to go probably on Wednesday coz my I-20 should be ready by then and I wanna do it during the week coz sob7an allah if I do get stuck there, I could contact the international office, embassy or whomever I need to contact.
So if you don't hear from me in a while, that means I never made back in!!!
Please wish me luck and pray for me coz I am really worried about getting stuck there. I will be prepared for the worst but inshallah that won't happen.
But if everything goes smoothly, I'll be home inshallah at the end of the summer.